Urban trail FOOD
Walking trails and green routes of various kinds in some cases can support development. In this case a healthy urban location offered sufficient exposure and foot traffic to represent an opportunity to an adjacent housing co-operative. A new community kitchen, meeting and training space is proposed.
By using rammed earth material with high thermal mass, and high levels of airtightness (close to passive house), shell costs can be offset by reduced servicing and a sustainable, robust building results. In Ontario, it is built using youth and volunteer labour with readily available local material.
Services comprise, a continuous supply of warmed fresh air (except in summer) via a simple, (Solarsheat TM) device with fan which maintains intermittently used facilities, holiday lets etc. at a minimum comfort level, supplemented by a solid fuel (pellet, wood) stove which provides hot water and rapid heat (for intermittent use) which is then held and dissipated by the walls. As fuel poverty is already present in the community additional costs are avoided.
In summer low to high ventilation with same fan is used to cool via. the chimney & opening windows. Shading south & southwest facades with high levels of insulation in walls & roof will keep the interior cool. High summer humidity is mitigated by earth walls which being still somewhat absorbent (hygroscopic) reduce that & avoid the problems which can arise in cool shaded areas in summer.
Soil conditions permitting the building deploys shallow footings (yes, in Ontario) with a fully insulated ground floor slab.
IN OPERATION
Once complete the building requires little decoration, and sourcing minimal donations of equipment, will, relatively easily, lead to a fully functioning & effective center. The building being low on maintenance and also low in operation costs can be a high quality, secure & sustainable asset for many years and hopefully anticipate greater use & appreciation of this area.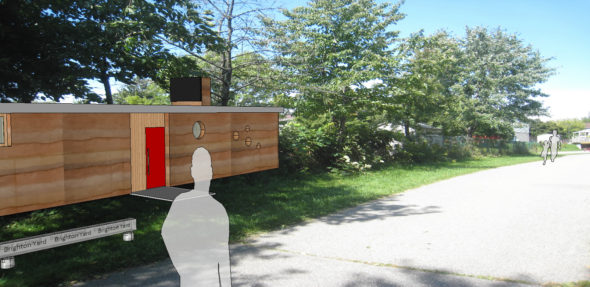 "..generously took the time to get to know our unique community and to listen to our collective needs and vision for our project" -Brighton Yards Housing Co-operative, ON