Pretty long..
This private house project on a plot roughly 6m across and approximately 45m long has a beautiful lush if floodprone garden and a small but pretty house, which was overdue for improvement and extension. Southern aspect all along one long side with bungalows & freestanding neighbours making this almost an end of terrace (despite being detached), we suggested a new approach!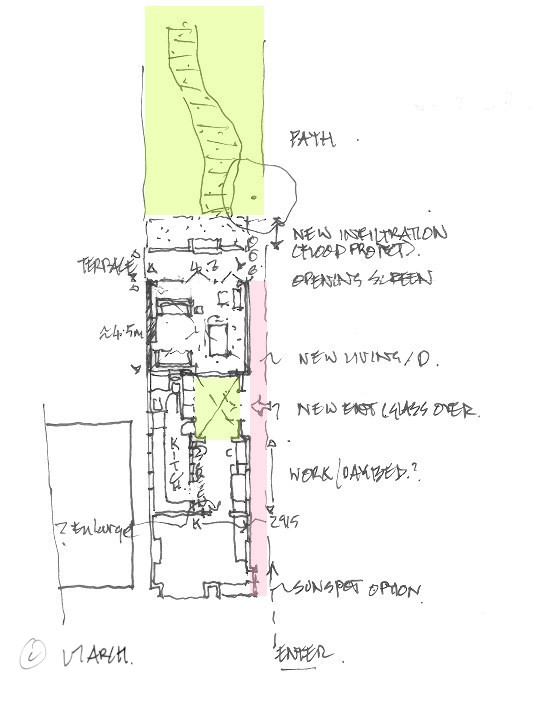 We are working on design development based on the strategy identified here:
Typically overextension into a garden, possibly also damaging the formal aspects of an existing house, detracts from the value of the house as it diminishes one of the primary assets even if it yields more and bigger spaces. In addition interrupting the view, however attractive the garden building, tends to be unpopular.
However pressure is growing all the time on houses in an energetic city and the courtyard solution, which is not so common as in European countries which are usually.. warmer, has become increasingly popular as a result.
In this case a poorly built earlier extension acts as a new side entrance court with a new "Garden Room" extension attached forming a new uninterrupted flow of spaces from streetfront to immersion in a beautiful, deep & unspoiled garden. This wilder space is often found between the backs of terraced houses in England. The court allows for plenty of natural light on both sides of the new living spaces as well as ventilation options deep into the plan.
A new dormer is cantilevered a little to make good on the modest proportions of the existing house and angled slightly toward the sun and neighbouring houses.
**Update planning granted 2023, exciting!